| | |
| --- | --- |
| Orig. Price: | $69.97 |
| Sale Price: | $49.97 |
| Availability: | in stock |
| Prod. Code: | DVD Case |
DVD cases
DVD cases in bulk for just $0.35 each! Get 100 DVD cases in these special offers for DVD cases that are selling for on Walmart.com and Sam's Club for $0.65 each. Our packages are great for costs featuring the standard black DVD cases which are perfect for storing and repackaging your DVDs for home or for sales.
Store and keep your valuable and priceless DVDs Blu-Rays, or CDs in these video cases. Prices vary based on quanitity. Call us for additional information.
Vintage VHS
(231)736-4317
Brand NEW never been used Black Blank DVD/CD Cases SLIM Style
Features
· Replace your broken or scratched DVD Boxes and Keep Your
Collection Looking Nice!
· These are the Slim style.
· Features Tabs Inside to Hold Inside Booklet & a Full Wrap Around Sleeve That Lets You Put In Front Paper!
DVD cases in bulk for just $0.35 each
All our DVD cases have transparent cover for labelling or images that cover more than just one side of the DVD; these can cover the front and back of the DVD label.
These DVDs are great for affordable purchases and resale packaging.
Each packages:
Holds 1 DVD
Could additionally work for your CDs as well!
Order in lot packages of 100
Approximate Dimensions:
5 and 3/8" by 7.5" by .5
Single DVD cases (1-disc DVD cases) are available in a variety of styles, colors and prices ranges. Find DVD cases from Amaray, ALPHApak, THINpak, PL-Pro and more.
Double DVD Cases
Double DVD cases (2-disc DVD cases) are available from brand names you recognize, including THINpak, ALPHApak, PL-Pro and more.
DVD Jewel Box Trays
Standard jewel cases are a less expensive packaging option than DVD Cases. Save on packaging costs while maintaining the perceived value of your DVD by selecting this tray with the DVD logo embossed.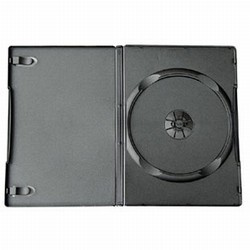 Making the Case for the Best DVD Package
When you need the perfect fit for your DVD project, count on CDROM2GO to solve the case! If you have a mystery and don't know what DVD case you need or where to pick one up, look no further than us. CDROM2GO offers a wide selection of blank DVD cases at wholesale pricing for just about any size job or any size capacity.
We stock single disc DVD cases which are perfect for advertising and promoting your project. We also carry double DVD cases for those who need a little extra space for their material, but don't want to sacrifice size for function. We even carry DVD cases that are able to store an amazing 10 discs in a single package! These high capacity DVD cases are great for volumes worth of information and are an excellent space saver for large projects.
When we say that we have a wide selection of cases, we're not kidding! We offer DVD cases in the standard, thin or slim, and wide spine varieties. All of which are great space savers and provide areas where you can add your own custom printed inserts or entrapments for your artwork!
Lastly, we offer DVD cases that come in different colors. Standard black DVD cases are perfectly fine, but some people are looking for a little more creativity in their case; which is why we offer not only the black DVD case, but clear, white, red, green, yellow, and blue DVD cases as well! With all of these combinations, it's not hard to see why CDROM2GO is an industry leader in DVD packaging and your best source for wholesale DVD cases.
CDROM2GO is your # 1 source for wholesale DVD Cases! We carry a vast selection of DVD cases including single, slim/thin, and wide spine. Our warehouse has the capacity to store millions of DVD cases ready to be shipped in any quantity. Buy DVD cases in bulk or even by the pallet by ordering from CDROM2GO.com or give us a call today at 877.992.3766 and inquire about our high volume discounts.