Free Shipping on all conversions!! PLUS:print out a free shipping mailer for your tapes courtesy of us.
Free shipping if you have more than 5 VHS, Camcorder tapes, or 8mm movie reels; to and from us!! We make it as easy as possible, during check out; when it asks if you have over five video transfers you are purchasing, select the "Yes" option for Media Mail free shipping option.♦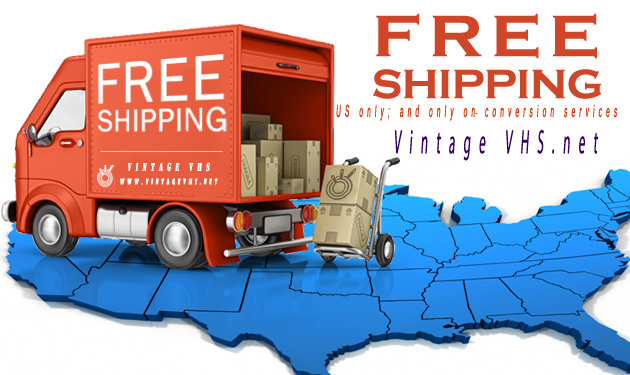 (free shipping to us also!)
If you select this, we purchase the shipping label for you, and once processed we send you an email back right away with the USPS shipping label that we have paid for, based on the number of tapes or reels you want converted.
You then cut out the shipping label, pack up your tapes in a secure box, and send them out as soon as you can. We get to work on them immediately, and cover your return shipping of your tapes, as well as your brand new DVDs!
♦This offer only applies to the U.S.
You can't beat it! Video conversion free shipping!! We are the only video transfer company offering this service, and we just started this up, so take advantage of it while we have.
---
If you have less than 5 tapes to convert; we recommend shipping your tapes to us via USPS; the prices are usually really reasonable, and you can check out the different options at usps.com